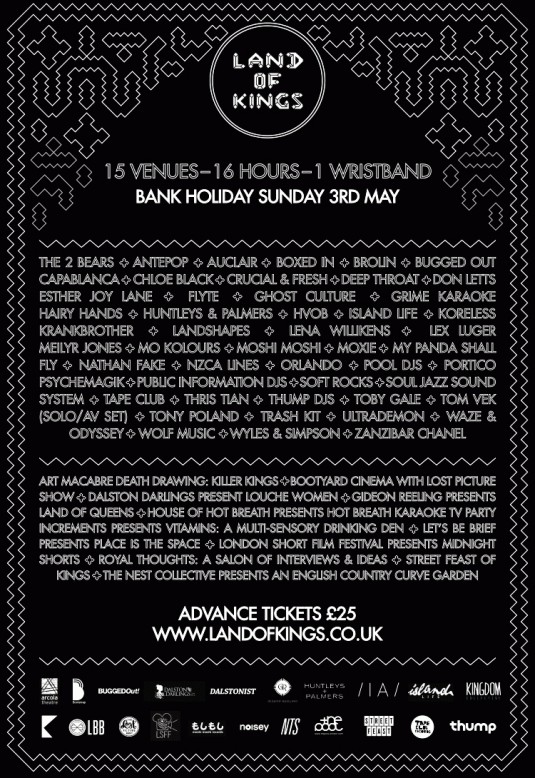 Once upon a time, before the Overground, east London was a place where working people lived and high net worth foreign property investors ignored. You could almost say that east London was underground.
Like the Manchester rave scene, east London's taxonomy has given rise to an array of post-industrial music styles, fashion and culture that continue to punch way above their weight like Manny Pacquiao.
So how did Dalston earn its iconic reputation? Well at this year's Land of Kings festival – a celebration of all things Dalston – we'll be discussing the history and future cultural legacy of Dalston and its neighbouring east London boroughs.
Featuring an esteemed panel, the 'Place is the Space' talk will be looking at how London's post-industrial East End has led to the makings of some of the UK's most compelling cultural output.
Speakers
In the 1960's Mr. Newton Dunbar arrived in the UK from Jamaica and founded one of the first Reggae-oriented music venue's called 'The Four Aces Club', which for some 33 years was home to the most influential black music and musicians to date.
It showcased new music genre's like; Blue Beat, Ska, Rocksteady, Reggae, Jazz and Soul performed at the time by artists like Alton Ellis, Desmond Decker, Jimmy Cliff, Count Shelly, Ann Peebles, Percy Sledge, Ben E King Billy Ocean, Cimarons, Aswad, Black Slate, Matumbi and many others. This gave the club authenticity to attract artists like The Clash, Chrissie Hynde, The Slits, Bob Marley, Sex Pistols, Marc Bolan and Bob Dylan who were heavily influenced by the infectious rhythms.
The club's success led to regular raids from the local Police, which gave it a bad reputation, the press targeted the venue as 'A Yardie Drug Club'. Despite the negativity that clouded the club it went on to pioneer the early indoor Rave scene with a night called 'Labyrinth' in the late 80s during the days of Acid House, Happy Hardcore, Drum & Bass and Jungle music. It hosted artists like: The Prodigy, Ratpack, Ragga Twins, DJ Slipmat, Billy Bunter, Vinyl Matt and Kenny Ken.
(biog via Resident Advisor)
A connector and supporter of ideas, Nell is co-founder of F A M.
With a background in music and sound engineering and 7 years' service at the BBC, she was the Community Event Producer for Hackney Weekend & the Academy. Nell worked with local partners, organisations & young people in the area she grew up in. The BBC's most ambitious free event to date – over 100 artists across 6 stages headlined by Jay Z and Rihanna. Nell sat on the Radio 1 & 1Xtra playlist committee championing new & established artists, bringing social action to the forefront on the documentary commissioning round and produced BBC Introducing sessions from the world famous Maida Vale studios.
Now freelancing across Live Events, Talent Management, Show Producing, and Special Projects. Current clients include – BBC Live Events, BBC News, BBC Radio 1 & 1Xtra, BPI, Red Bull, Global Radio, Boxfresh, Work It and Nike. Recent projects include – Red Bull Culture Clash, The Big Music Project, Radio 1 Teen Awards, 1Xtra Live, BBC Music Awards & What We Wore.
"If there was an award for exceptional contribution to dope undergound music, Tony Nwachukwu would probably win it." – Boiler Room
Tony is a producer, DJ, lecturer and founder of CDR (Create, Define, Release). To many he is known from his time in Attica Blues (Mo'Wax) or as NEPA Allstar and The Wach. Diverse production and remix credits include Macy Gray, The Cinematic Orchestra, DJ Krush, Jazzanova and U.N.K.L.E. His lecturing and expertise at creatively facilitating learning have been used by academic institutions (Southbank University, University of East London) and brands alike (Redbull Music Academy, Ableton).
Since Tony first set up CDR in 2002, the multi-platform music-centric project has allowed music makers in London, Berlin, Copenhagen, Sydney and elsewhere across the globe to further their production prowess; alumni include Hudson Mohawke and Floating points.
In 2013 CDR partnered with Dimensions Festival to give festival goers an opportunity to work and play on the beach with CDR Knowledge.
Born and raised in West London, Nina Manandhar is a photographer, artist and modern day pop-ethnographer. Inspired by the vibrancy of youth and the dynamism of city life, her celebratory photographs and mixed media projects examine the use of style and culture as tools for identification and belonging in Global Youth Culture. She co-founded The Cut and ISYS ARCHIVE. Her work has been exhibited at Tate Modern, Exposure Gallery and the Institute Of Contemporary Art. Her commercial clients include Dr Martens, Dickies, Umbro, Adidas, JD Sports and Nike.
In 2013 she released her first photo-book Money On My Oyster'. She is the author of 'What We Wore – A People's History of British Style', published by Prestel in 2014 . She is also an Associate Lecturer at the London College of Fashion.
::
LBB Pop-Up School // 'Place is the Space' at Land of Kings // Arcola Theatre // Sun 3 May 2015 // Time 6.30 – 8pm