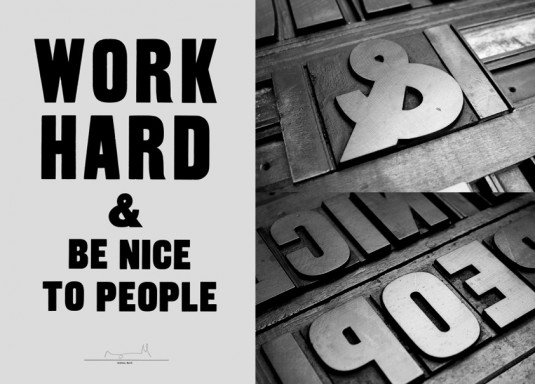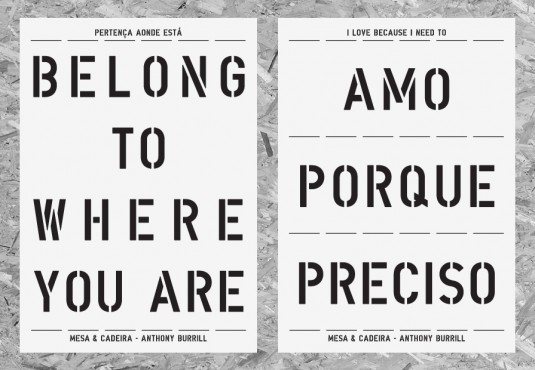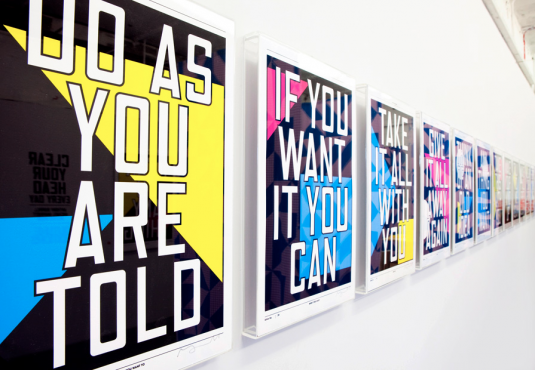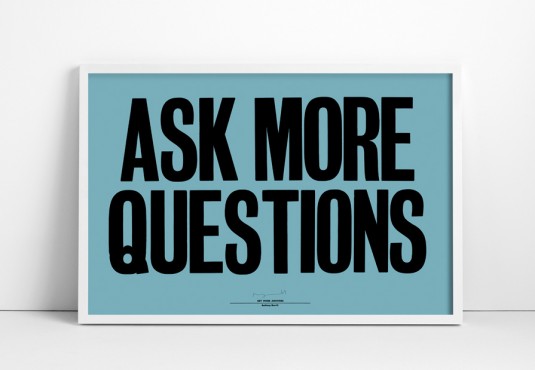 The work of Anthony Burrill contains enough motivational power to put most self help authors out of business. With bold type and clear concise messages, Anthony's work reads like a wise, no-nonsense Uncle who still goes skateboarding. Anthony's work will be featuring as part of the Print Club London curated poster exhibition for Film4 and Somerset House's annual "Summer Screen" that runs from August 01-21, 2013.
Mr Burrill was kind enough to put down the block letters and ink rollers to discuss good grammar, his influences and why he's in fact not the biggest fan of self help books. So on with the questions.
Q) You've managed to consistently create work with humour, meaning and relevant to our time. Would your relationship to graphic design have been the same if you weren't able to express yourself – as you do – through the medium?
I'm glad that there is room in graphic design for self expression. Years ago it was frowned upon, we were supposed to be messengers not authors. Things have changed so much in the past ten years, graphic culture is much broader and more inclusive. I think this is a good thing. It's still important to produce work that has relevance and meaning, I think that is very important. So while I welcome the huge popularity of graphic design, I'm cautious of work that is produced that lacks depth or invention.
Q) Recent educational debates have questioned the relevance and importance of spelling and grammar to the English language. Is it important and can we ever expect text speak poster from you in the future?
Language is constantly mutating and developing, it always has. Recently technology has had an enormous effect on the ways we communicate, I think it's hugely important to understand the basic rules of language, that way you can play around and subvert it. However, I don't think I'll be producing any posters with LOLs or ROFLs just yet, it would make my daughter cringe too much.
Q) Work Hard & Be Nice People must have surpassed your initial expectations in regards to its success. What has been the best or most meaningful advice you've received?
My tutor at Leeds Polytechnic was a brilliant man called John Ross. He was a huge influence on me. He ran the graphic design course at Leeds like his own personal kingdom. When I was getting ready to leave Leeds to head down to London to start my course at the Royal College of Art, he took me to the pub for one last drink. His final instructions to me were "Go down to London and fuck the lot of 'em!"
Q) If you were to create a self-help book, what would be the subject and what would it be titled?
It would be about how not to read self-help books, I don't think they help anyone.
Q) Collaboration seems to be a play an integral part of your process. What are the key elements for a successful collaborative affair and who would you like to collaborate with in the future?
The key is to work with people who share your sense of humour and taste in music. If you have those two things in common, then everything else will fall into place.
::
Big thanks to Sara at Print Club London