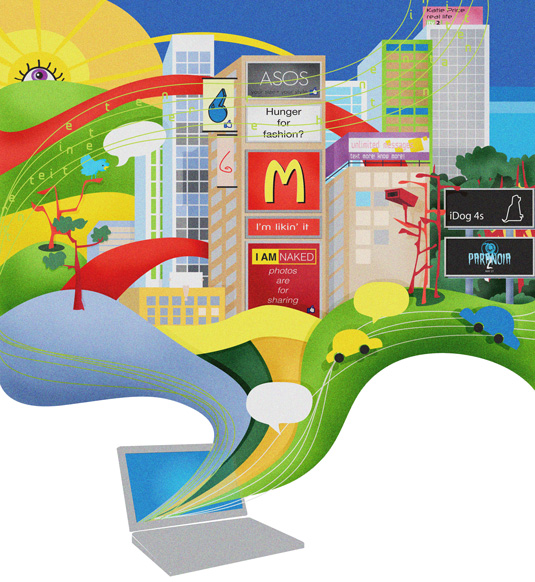 WITH THE RECENT ANNOUNCEMENT VIA THE QUEEN'S SPEECH OF THE STATE BRINGING FORWARD MEASURES TO SURVEIL INDIVIDUALS INTERNET COMMUNICATIONS, ARE WE OFFICIALLY IN THE POST PRIVACY ERA? AND DOES ANYONE EVEN CARE?
JEWEL FOSTER ASKS THE QUESTION WHAT IS THE VALUE OF PRIVACY IN THE 21ST CENTURY.
When the inventor of the open Internet Tim Berners-Lee opposes the snooping bill it says a lot about how much we should value our privacy. The snooping bill – a law that could be passed this May – would allow the GCHQ to store and monitor personal info such as who we're contacting and when. An attack on cyber terrorism that could open the Internet up to 24hr surveillance.
We already 'accept' the terms and conditions without thinking about the actual contents of all that text: who has access to our data, what it's used for, whether it's being sold to third party companies for advertising opportunities.
I admit personalised advertising is helpful; my screen's not cluttered with ads for upcoming One Direction gigs, products I'd never use or have never even heard of aren't harassing me. But, at the same time, being followed by companies that know me so well leaves me feeling a little bit paranoid.
Everything we type into search engines, most of our posts, bla di bla are stored or indexed. For surveys and net gain we allow companies and systems to build a profile of us. Just like we now do with our friends and family: personal birthday phone calls are no longer necessary and inevitably if intimacy is out the window, privacy is soon to follow.
Your Facebook page can form the basis of an opinion on you, without having to know you too well; – 'conversation is rubbish; you could literally waste years talking to someone and never get the bottom line.'  The insightful words of Mark on Peep Show (As he frantically stalks through Sophie's emails to learn how to impress her).
Privacy is about being allowed the control of your own public face and being free from judgement.
The rise of reality TV shows like The Only Way Is Essex, Made in Chelsea and Jordey Shore have made it trendy to have the public prise into every intimate detail of your life.
Wikileaks, paparazzi, and the Leveson enquiry suggests that – no, not everyone is entitled to their privacy – the media relentlessly tears through life after persona after life, while people continue to follow yellow journalism and celebs continue to sell their wedding days to magazines and live in the public eye. And celebrities taking out injunctions and super injunctions to hide their personal life proving the financial worth of privacy.
But injunctions are for affairs and general misconduct. Which is a possible cause to lead people to believe that the only ones who worry about privacy are those with something to hide. Even if you really are a total saint with nothing to hide, I doubt you'd like your diary read, or to shower to an audience.
See, it's not necessarily about secrets and things we feel we need to hide nor the intimate aspects, the idiosyncrasies or the toilet times – no one seems to relish in the joy of personal experiences anymore or feel the empowerment in owning bits of yourself, knowing things that not everyone has to, mystery. Everyone should be entitled to privacy, just as everyone is entitled to his or her own opinion or freedom of speech.
It's also a matter of safety and security vs. privacy. A state completely free from surveillance wouldn't particularly be an advantage. Being caught on CCTV picking my nose is really a minor factor if I consider that same camera could catch or even deter a thief.
My main concern is that generally people no longer seem to be concerned with their own privacy or the pervasive and insatiable jaws of the Internet. We should be getting angry, demanding our personal info back. It's one thing that people are willing to sell their rights to privacy but scary that people seem to be generally apathetic about it. The fact that someone can put a price tag on something that belongs to us and can literally have a stake in our identity should provide a helpful kick up the bum.
::
Illustration by Jewel Foster