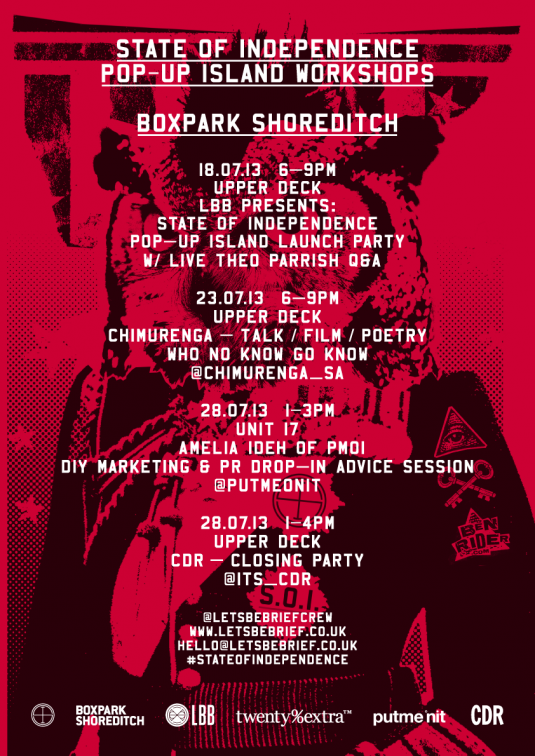 We've had Theo Parrish provide us with his inimitable take on independent thinking in our Q&A session, along with music from The Insomniax. But the S.O.I. event roll call doesn't stop there.
On Tuesday 23 July from 6-9pm, Ben Gubbins will be discussing his experience working with existential pan-Africa journal Chimurenga.  Expect film, spoken word and plenty of insight. Who No Know Go Know.
Sunday 28 July will see music marketing guru Amelia Ideh of Put Me On It providing unvaluable one-to-one marketing advice at her drop-in surgery. Just pop into our State of Independence Pop-Up Island, Unit 17. Dr Ideh will see you between the hours of 1-3pm.
And while you're waiting for your appointment, pop up to the Upper Deck where Tony Nwachukwu of CDR will be playing us out in inimitable fashion. Expect dubplates and off the hard-drive exclusives in equal measure.
All-in-all, a million reasons for you to fly the State of Independence flag with us this week. Atteeeeeention.
::
Part of the State of Independence series
State of Independence Pop-up Island | 22-28th July 2013
Unit 17 | Boxpark Shoreditch | 2-4 Bethnal Green Rd | London | E1 6GY
Deprecated: Function get_magic_quotes_gpc() is deprecated in /customers/3/8/6/letsbebrief.co.uk/httpd.www/wp-includes/formatting.php on line 4387
Notice: compact(): Undefined variable: limits in /customers/3/8/6/letsbebrief.co.uk/httpd.www/wp-includes/class-wp-comment-query.php on line 853 Notice: compact(): Undefined variable: groupby in /customers/3/8/6/letsbebrief.co.uk/httpd.www/wp-includes/class-wp-comment-query.php on line 853 Notice: compact(): Undefined variable: groupby in /customers/3/8/6/letsbebrief.co.uk/httpd.www/wp-includes/class-wp-comment-query.php on line 853 Notice: Theme without comments.php is
since version 3.0.0 with no alternative available. Please include a comments.php template in your theme. in /customers/3/8/6/letsbebrief.co.uk/httpd.www/wp-includes/functions.php on line 4024 Deprecated: Function get_magic_quotes_gpc() is deprecated in /customers/3/8/6/letsbebrief.co.uk/httpd.www/wp-includes/formatting.php on line 4387 Deprecated: Function get_magic_quotes_gpc() is deprecated in /customers/3/8/6/letsbebrief.co.uk/httpd.www/wp-includes/formatting.php on line 4387 Deprecated: Function get_magic_quotes_gpc() is deprecated in /customers/3/8/6/letsbebrief.co.uk/httpd.www/wp-includes/formatting.php on line 4387