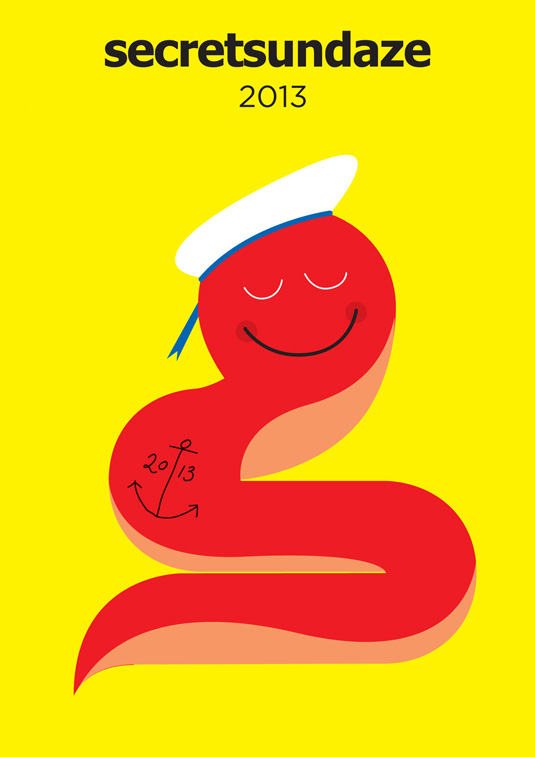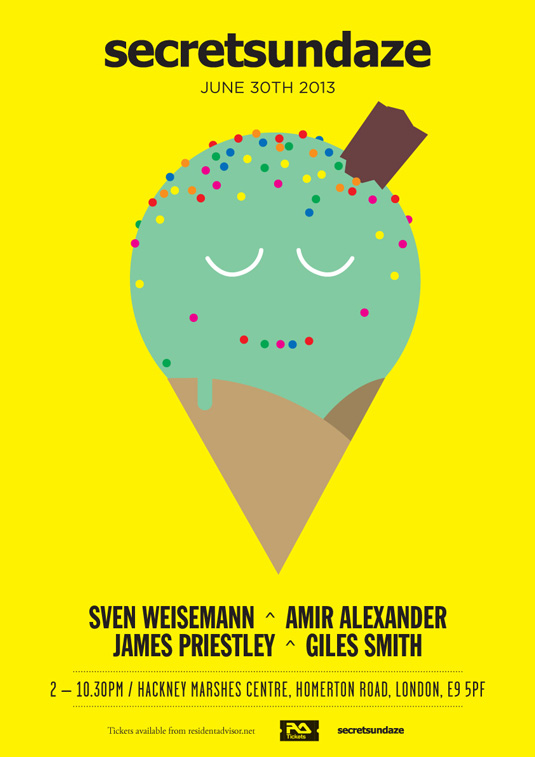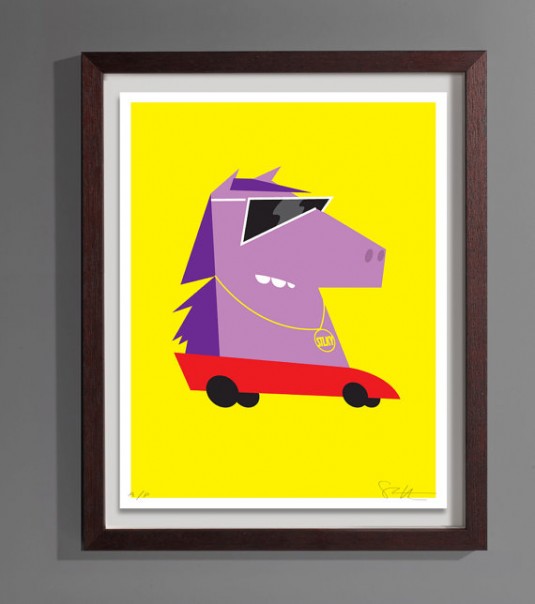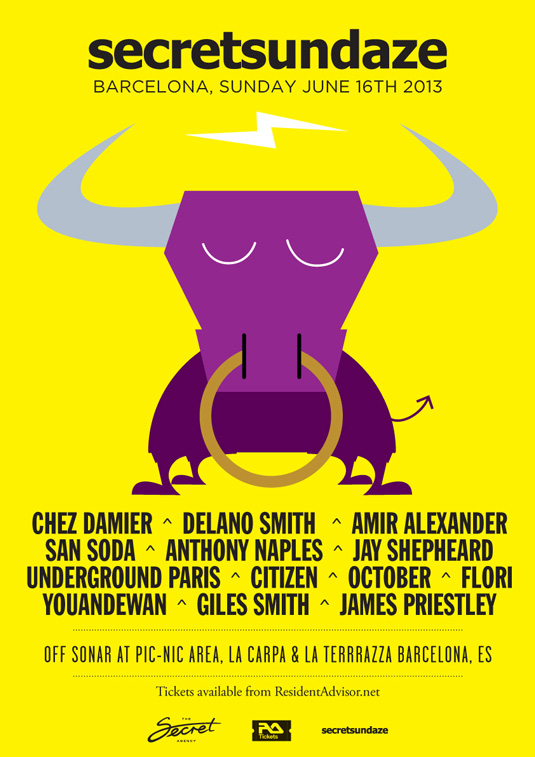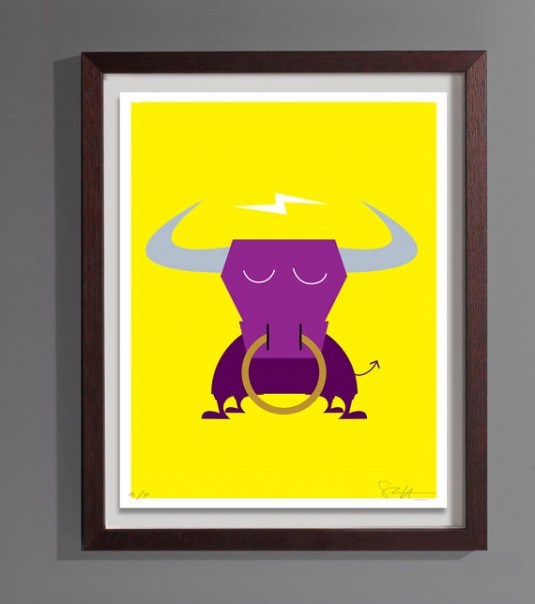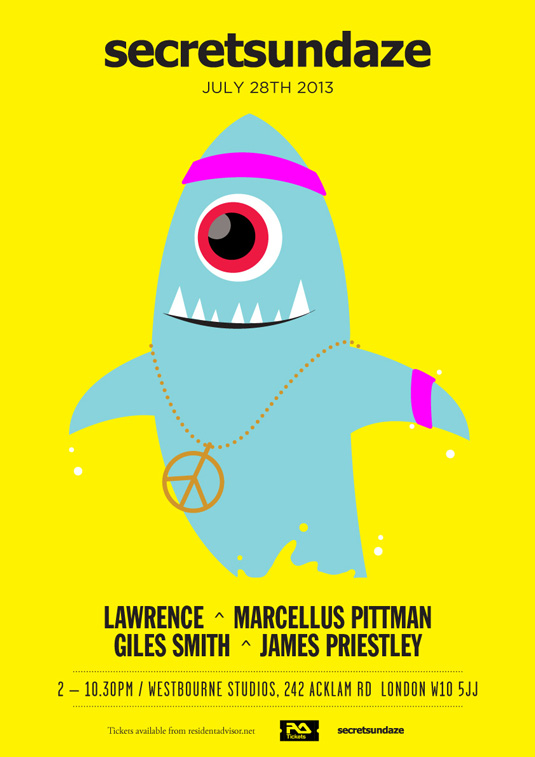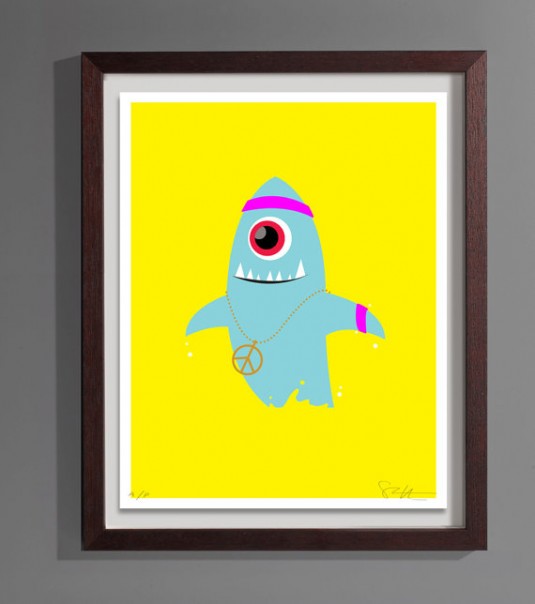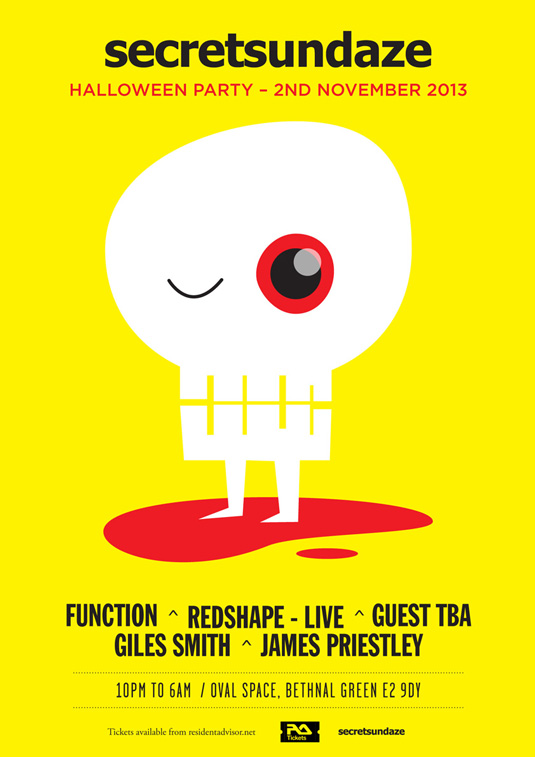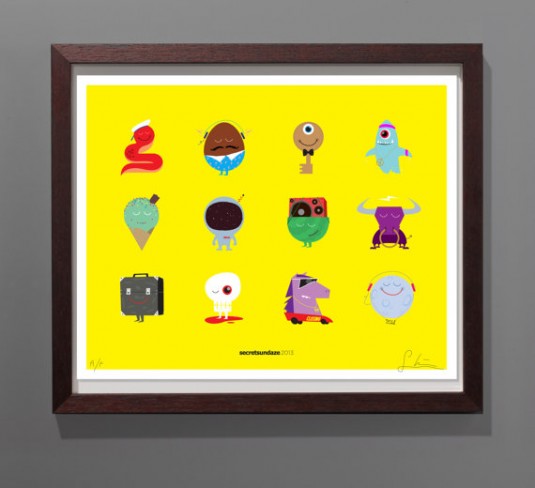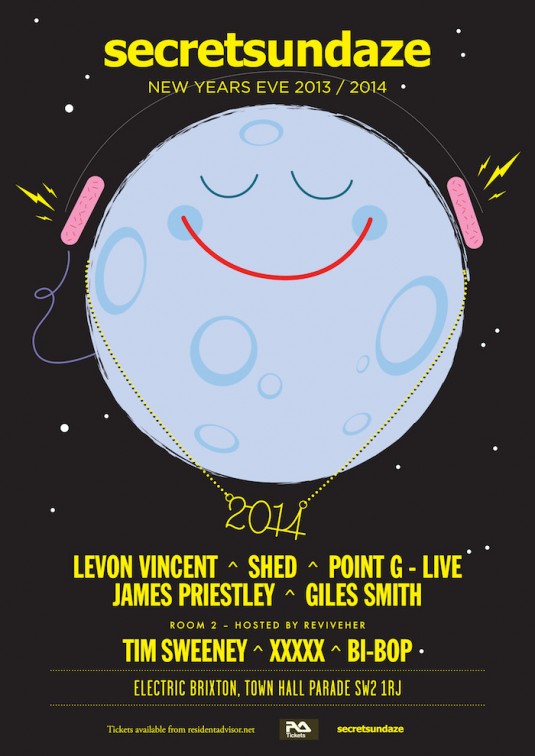 If you know about club nights, there's a fair chance you'll know about secretsundaze. Now in its twelfth season, SS has gained a bit of a reputation as one of the go to spots for house / techno heads and party people alike.
And if you know about secretsundaze, then the crisp, playful flyer artwork will have no doubt left a mark on your retinas. Work this good deserves a second lease of life, so it came as no surprise to discover that secretsundaze has released a limited edition series of 2013 retrospective prints for sale via Etsy.
Created by designer / artist Samuel Muir (who has also worked for Don't Be Afraid, Ram, Metalheadz, Mercury, Universal, Sony Music et al), we thought it best to catch up with the man to learn more about the character behind the characters.
Q) As an Antipodean, you've clearly decided that the inclement weather of London is more to your liking. What aspects of the LDN design / culture scene (if any) influence your illustrative style?
You know, I think it actually rains more in Auckland. I'm definitely influenced by the attitude and style of Londoners. It's an addictive city, and I'm always amazed at the risks people take and the crazy schemes people are constantly coming up with – especially since the recession. The feeling that 'anything goes and anything's possible' is prevalent and inspiring. Actually, I rarely look at design blogs and magazines so that my head is clear of current influences and trends.
Q) No-one could accuse you of developing an in-house style. Is there any process you adhere to in to find the right insight / art-direction for the brands you work with?
My work is really varied, as are my clients, which I love – to create something I can be proud of, whatever the genre, is a challenge that keeps me engaged and enables me to research areas of culture I wouldn't usually think about if I stuck to a certain style. I'm not shy of working with a big commercial artist or a super underground label. The challenge is to create something I'm proud of whoever the client.
Q) As Creative Director and a Designer, you're both a strategist and a detailed obsessive. How do you balance these impulses?
I think that any good design needs to be strategically led in the first place. It needs tons of thought before I put pen to paper. I ask clients to pitch me their project over the phone before an official briefing – so I can think about it before the work starts. You need to develop the ability to see the big picture (i.e. will this stand up in a year?) with an eye for detail (i.e. does this actually look good on a page?), which I think only comes through experience. I also try to overrule clients that get too commercial with their own ideas – they usually thank me in the end.
Q) With these secretsundaze indents, you've managed to invert the too-cool-for-school club flyer aesthetic.
Was that at the principle purpose of this brief, or were there other motivations?
James Priestley and Giles Smith [the secretsundaze promoters] are good mates with good taste. And their parties are amazing and unique – the artwork needs to be light and refreshing to reflect this. We've worked together for so long now that there's never a brief set any more – we have a chat, and I come back with ideas and thoughts that we develop. The cornerstone each year is that it must be subversive and interesting. Interesting can mean a lot of things – this [the 2013] campaign works because the content of it (essentially cartoon characters) juxtaposes the house music / party scene so heavily. When I showed James and Giles an initial look last year, they were keen from the outset, for that very reason. Every promoter wants to stand out visually. To have it so ravers are choosing their favourite characters and giving them names – that's a great development on what could have just been a basic flyer.
Q) For the printed posters you've chosen the Giclée print process, which from 'extensive' research, we discovered stems from the French word 'gicleur', which means 'jet' (the verb form 'gicler' means 'to squirt, spurt, or spray'). How did you manage the marketable kudos of the print process with an affordable price point?
There's loads of colours in these – so screen-prints would have been far too expensive to produce. Giclée prints are amazing quality. We wanted to make an affordable, high-quality extension of the campaign for fans of the party, that isn't as obvious as a bunch of t-shirts. We chose this project to ensure that the imagery is enjoyed for years to come, rather than forgotten once the gig is over, and we love the idea of 'elevating' a digital club flyer to art status. We also love the fact that fans of secretsundaze from all over the world are buying them to frame and hang in their homes.
Q) Is it at all possible that these characters could replace the all-too-familiar horoscopes? Discuss.
No it's not possible, and horoscopes are made up.
Q) I feel like I'm looking at the beginnings of an animation series. Tell us it's in the pipeline. Tell us it's so.
Strange you should ask that. I'm working on a few storyline ideas with my wife, actually – and a good friend of mine in LA has the ear of some TV bosses so we'll see how it goes. Pretty much a massive long shot, but most decent things are at the beginning.
Q) What's next for 2014?
I'm working with an amazing band at the moment – Say Lou Lou. Also branding and consulting on a bunch of start-ups here and in the States. I'd like to shift my focus from designing as a service for clients, to more self-initiated project-based creative work. To that end, I've approached a bunch of talented friends to work with in some areas new to me in 2014. I'm co-writing a short film, designing two new ranges of clothes, launching a new series of screenprints, and working on a restaurant concept for later in the year. And of course, the 2014 secretsundaze campaign.
::
secretsundaze New Years Eve 2013/14 // December 31, 10pm-8am //ft. Levon Vincent //  Shed // Point G (Live) // Tim Priestley // Giles Smith // Electric Brixton, Town Hall Parade, SW2 1RJ // Tickets available via Resident Advisor