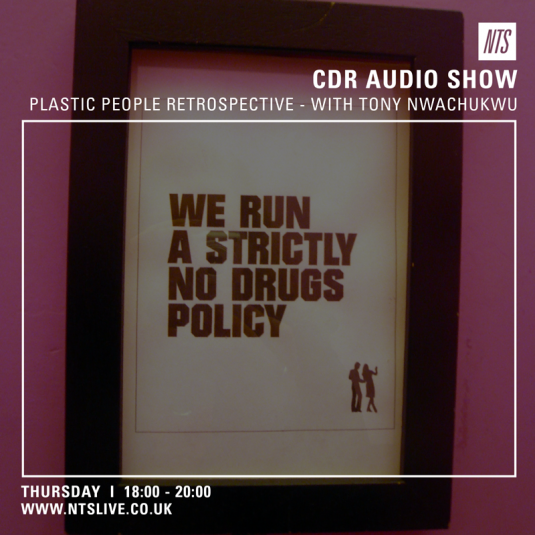 The busy, expectant energy on Curtain Road; the obligatory (yet friendly) search by security; the exchange of a few quid – or if you're lucky, a cheeky check-off from a guest list; familiar face; the walk down the steep slopping stairs; the turning of the corner, and 'blam'.
In many ways, the first 1 minute and 5 seconds to Floating Points' King Bromeliad tells the tale of Plastic People: a tale of anticipation, and a promise of quality. My PP days are defined by legendary CO-OP and CDR – nights so visionary and explorative in their nature that it's ludicrous to think that we occasionally took these events for granted.
For Sam Shepard, CDR and Plastic People was more than club-night with a meticulous sound-system. The symbiosis owes everything to an unwavering love of culture and a dedication to share that culture irrespective of financial gain.
In interview with Ben V from CDR, Plastic People founder Ade Fakile explains how the marriage came about: "Tony didn't even approach me, he just told me, "We're doing this!" It kind of fitted in to what I wanted to do but went against one of my grains, which is I want to have 200 people who are like-minded about music, but by the nature of doing CDR, it won't be continuous, it won't feel like a club night. But that was a mistake on my part."
Having crafted such an acoustically correct space, CDR submitters get a pure airing of their work in progress, or as Ade says, "The room doesn't have an impact on the sound, the soundsystem plays the record as it's meant to be played."
This commitment to high fidelity is why the likes of Floating Points and SBTRKT came back again and again, and why music lovers like myself considered PP a musical mecca.
This was our Blue Note and Roxy. But rather than cry over spilt milk, tonight between 18:00–20:00 on NTS Radio, we doth our proverbial caps courtesy of CDR founder and all-round musical renaissance man Tony Nwachukwu. Get your head down, find a dark corner, and experience the Plastic People experience one more time.
::
NTS x CDR Audio Show // Plastic People Retrospective with Tony Nwachukwu // Thursay 18:00–20:00 // NTS Radio