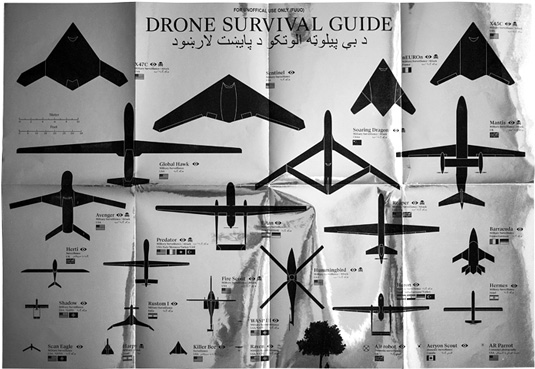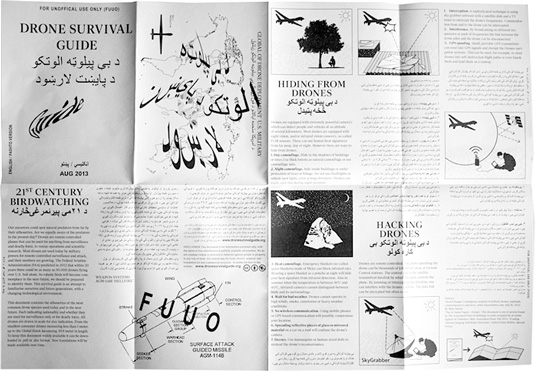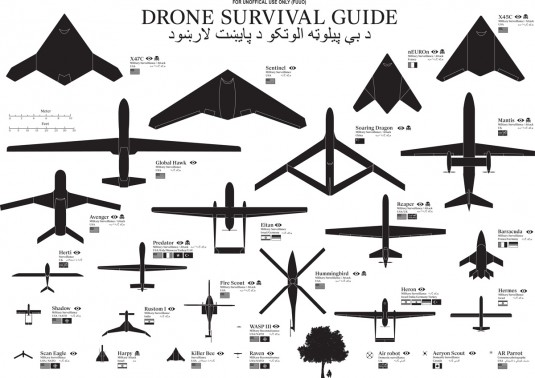 The Federal Aviation Administration (FAA) predicted in 2012 that within 20 years there could be as many as 30,000 drones flying over U.S. soil alone. As robotic birds will become commonplace in the near future, we should be prepared to identify them. This survival guide is an attempt to familiarise ourselves and future generations, with a changing technological environment.
This document contains the silhouettes of the most common drone species used today and in the near future. Each indicating nationality and whether they are used for surveillance only or for deadly force. All drones are drawn in scale for size indication. From the smallest consumer drones measuring less than 1 metre, up to the Global Hawk measuring 39.9 metres in length.
Designed by Ruben Pater, a self-employed artist / graphic designer from the Netherlands, this project represents a very important body of work. Any questions you may have about drones are answered in the highly informative FAQs section on The Drone Survival Guide website, some of which we've featured below. Be sure to click on the image above for a more detailed look at the guide itself.
Are drones dangerous?
Drone is a popularized name for Unmanned Aerial Vehicles (UAV) which is used to designate anything from a remote controlled toy quadcopter, to a CIA predator, to small unmanned planes used to monitor illegal fishing. Technologies are used for better or worse, and the same goes for drones. Drones are never dangerous as a phenomenon, but they can be used with harmful intent. We should be aware of how governments and other parties use them and if legislation and monitoring is properly installed. By promoting awareness I hope we can engage in a public discussion about for what purpose, and in what circumstances we should allow the use of drones.
Will the Drone Survival Guide (DSG) protect me from drones?
Of course not. The DSG is an art project to inform citizens worldwide about the dangers and capabilities of drones used by governments worldwide. It has some tips how to hide from the drone's sensors and how they work, but it is very naive to think you will be safe if you follow these instructions if you were targeted by a drone with harmful intent. Even a small drone used as a toy can fall out of the sky and hurt you, so keep looking up!
Are you promoting actions of violence against drones?
Explicitly not. The DSG is intended for the purpose of sharing public information, and call for peaceful activism in creating awareness to limit the use of drones against people. This project is pacifist in nature and I am absolutely against all forms of violence against people or property.
Are you helping / aiding enemies of NATO with this guide?
Of course not. The drone countermeasures in the guide have been publicly available for years, in various news sources and blogs. They are not very sophisticated and most of them you could figure out yourself. They won't be of much help in an actual battle scenario. Note that 87 nations in the world have drones, so countermeasures apply to all sides. Please be aware that all of the countermeasures are about misleading the drone's sensors and I am against any violence against people or property.
Can you tell us more about the text on your guide?
It is Pashto, a language spoken in Pakistan and Afghanistan. Not coincidentally the area where most drones are deployed worldwide, and many civilians lose their life because of them. Making the DSG bilingual is a statement that we should remember to address not just an English speaking audience when we talk about peaceful activism. A goal for me would be to use the posters in the Pashto speaking area for educational and peaceful activist purposes, together with a local, non-political organisation.
Who paid you? Are you affiliated with a political organisation?
This project I did as a civilian and I paid for the production myself. I did not receive any funding or subsidy for making it and I am not affiliated with any political organisation.