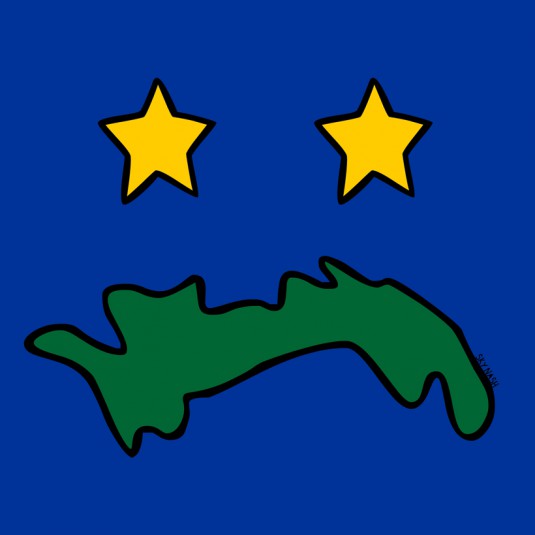 A wise man once said that the economics defines the politics. And while it is true that the poor man invariably suffers for his ignorance, the rich have always done rather well out of a cultural currency trading on a weak exchange rate of ideas.
David Cameron led the Conservatives back into government, becoming the first Tory leader to win a majority in 23 years. Just hours after Britain had decided to exit the European Union, Cameron had resigned, leaving a chasm soon to be filled with a brand of unbridled neoliberalism not seen since the days of Thatcher.
A tribute to Cameron's 'brand of compassionate conservatism' will now be followed by a slow exit through the Conservative Party gift shop, where all previously nationalised trinkets are for sale. It is difficult to legitimise the legacy of a Prime Minister unable to distinguish between chess and checkers, and more importantly, unable to gauge the temperature of a nation eager to throw off the shackles of political correctness in the desire to call a spade a spade, call it as they see it — or like Leicester City and England striker Jamey Vardy, call an Asian man a 'Jap'.
According to the National Police Chiefs' Council, reports of hate crimes rose 57 per cent in the immediate aftermath of the EU referendum. If nothing else, this period of political discourse has shed a spotlight on just what kind of 'country' we live in, and the fact is, 'we' are still living in the 70s — not the funky clothes 70s with a nigh on guarantee of great music, but moreso the socially acceptable, frontline bigotry currently being popularized as Britain reclaiming its voice.
A form of bigotry made all the more bizarre given employment stats, key economic drivers and employment market data. Take for instance Havering — one of the five London Boroughs that voted to leave the EU by a sizeable 39.32% majority. Romford Hospital employs five hundred members of staff from the EU alone, meaning for the sake of the east London borough's sick and infirmed, Article 50 had better end up in one of Romford Hospital's many pedal bins.
With pit closures across the UK during the 80s and 90s, a loss of industrialised jobs with no meaningful plan of action to re-skill communities has meant communities remain decimated to this very day. The challenges for the UK — as outlined in Department for Business Innovation and Skills' Future of Manufacturing report, are yet to be realized. In big business parlance, globalisation 2016 style means what globalization has always meant — that is a juggernaught of "fraud perpetuated by financial transnational capitalism."
While big money continues to move freely, beyond the reach of the Taxman, Britain has instead committed itself to a level of parochialism of the good ol' days. The words of EU health minister Vytenis Andriukaitis ring clear, even for those unable to suitably articulate their personal grievances.
For interconnected millennials, 'globalization' has come to represent opportunity distinct from national boundaries as defined by protectionism without adequate provision for skills development: a climate of fierce cultural protectionism incongruent with a national, and acute, skills deficit — a deficit for which the Leave campaign has yet to provide an answer.
Bank of Mum & Dad investing in SMEs
Let us go back a few years. Back to Birmingham's 2009 Social Enterprise Conference, and a speech that saw Cameron's pre-election marketability roam free. Promises of a compassionate Conservatism, cognizant of the needs of small and medium size enterprises across the UK, represented a new 'Big Society Conservatism'. No longer just the brand of big business, Cameron spoke of a party now siding with companies employing between one and nine people, often set up with seed money derived from a redundancy cheque or the Bank of Mum & Dad if they were lucky: the 0% APR loans helping to finance 25% of all UK mortgage transactions this year, at an average amount of £17,500*. Yet when the professional bears no distinction from the personal, such investment also counts as an investment in business, because for many small to medium size enterprises (SMEs), having a place to rest one's head is a place to work every hour that God sends.
The ninety-nine percent of UK businesses include an ever-increasing volume of Sole Traders, and have helped keep unemployment figures at surprisingly low levels given these harsh economic times. In such instances, second bedrooms, living rooms and kitchens become offices, as even the costs of shared office space continue to rise in line with, and often above, the value of building square footage.
The magic hat of the economy and the skills deficit
If you don't ask the right questions, you get the wrong answers. So here are a few questions: like where will investment in the levels of education required to counter low productivity / skill levels in the UK now come from?
The Leader of Cornwall Council, John Pollard, asked this very question, stating that Cornwall, who voted to Leave the EU by a 14-point margin, "will be insisting that Cornwall receives investment equal to that provided by the EU programme which has averaged £60m per year over the last ten years."
Since 2000, the number of UK businesses has, on average, increased by 3% each year. In 2015, there were 1.9 million more businesses than in 2000 — an increase of 55% over the whole period. With the proportion of businesses that employ people having fallen since 2000 from around a third, to a quarter, this decline will no doubt bare the brunt of stipulations set forth by a European Parliament left noticeably underwhelmed by the charms of Nigel Farage and his participation in the European debate.
Cognitive dissonance has seen political policy counter ambition, with Britain's counter-intuitive EU relationship on display for those with an eye on legislation – legislation that drills down into one of the bread and butter staples of tech innovation – the Internet.
For example: a 2013 decision to cut the European Union's seven-year 2014 to 2020 budget by 3% (to around £768bn), meant the European Commission's (EC) plan to boost funding for future superfast broadband projects through its €9.2bn (£7.78bn) Connecting Europe Facility (CEF) was 'effectively wiped out'.
To date, nearly four million homes across the country have received superfast internet connections from BT since the six-year Broadband Delivery UK (BDUK) subsidy scheme began in 2010 — schemes funded by the European Regional Development Fund (ERDF) and European Agriculture Fund for Rural Development (EAFRD).
With access to adequate broadband services of crucial importance to our economic and social development, the findings of a recent British Infrastructure Group (BIG) were damning, citing "rural SMEs and consumers…left with dire speeds, or even no service at all."
Most recently, the UK Space Agency awarded a business group in Durham £50,000 to set up a space technology incubator. Business Durham, which promotes economic development on behalf of Durham county council, will be overseeing the incubator in North East Technology Park. Durham voted to leave the EU, with a 15.09% majority.
Leaving the EU will have a material impact on the availability of finance for SMEs. Special EU programmes for SME financing, which will of course, no longer be available.
Within the budgetary constraints of 'austerity Britain', where is the investment for green growth? Not those green shoots we've heard so much about, but the provisions to enable new sector opportunities that can benefit the entire economy? And how will Parliament now rummage up the key investment needed to keep huge swathes of the country afloat, not only during times of groundwater flooding, but the fuel for the UK to send satellites into space. Thus far, those answers are in short supply. By exiting the single market, the UK will most likely eschew its commitments to future green growth opportunities.
Reneging on implausible, and downright false NHS investment promises will be least of the governments concerns in these coming weeks and months. That is to assume that they are actually concerned at all.
*According to data from Legal & General (L&G)
::
Illustration c/o The Keen Eye that is Sky Nash