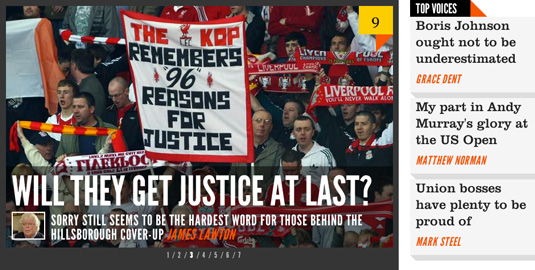 Well. Write an article about new opportunities for audiences to comment and you know what you're giving people? A right to respond.
The new Independent Voices platform by UK broadsheet The Independent has introduced a couple of innovations to the newspaper's offer, in the form of debate comments and open graph reactions.
Debate comments will allow people to leave a post either For or Against an article and give votes to the most, or least, pertinent comments. There are no replies – a vote down or a comment on the opposite side of the debate are supposed to be enough to represent a negative reply. The new Facebook open graph reactions allows users to click a button to log a reaction to the article, which can then be posted to friends on Facebook, as well as updating a count on the page.
The changes are supposed to help the Indy gauge and balance reactions to topics, as well as perhaps ensuring greater accountability of the dastardly trolls who read, attack and move on, all from behind the protection of the computer screen. So far, the moves have received more disapproval than thumbs up, such is the nature of asking people, who are predisposed to prefer the certainty of the status quo, over change.
The BBC is the big old elephant in the room that means newspapers increasingly turn to opinion writers, to explain what the news means to their audience, to offer them something different, because the facts are already there is black and white. This looks to be an interesting experiment in using the wisdom of digital crowds and giving context to conversations online.