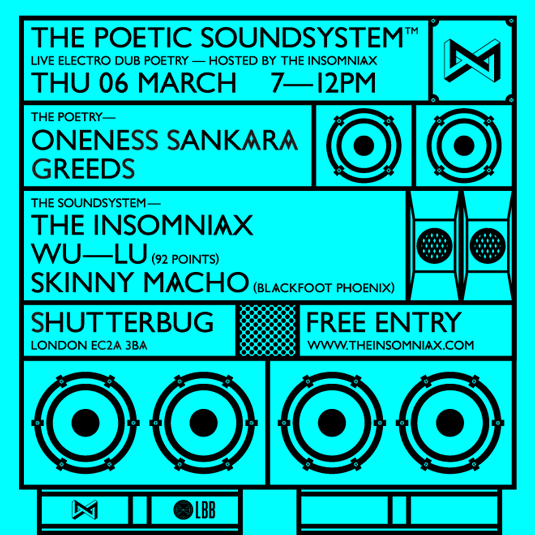 After a short hiatus The Insomniax are back with their new night, The Poetic Soundsystem – a live electro dub poetry jam session launching Thursday 6 March 2014.
The bi-monthly gig will feature a synthesis of sound sonics with poets waxing lyrical over synthesisers and ambient pads while DJs curate the emotion of the night.
Master of ceremonies The Insomniax will be joined by DJ's WU-LU (92 POINTS / NTS) and Skinny Macho aka Blackfoot Phoenix (Boiler Room / NTS) plus live performances from Oneness Sankara and Greeds.
And a heads up for those with a sweet tooth: Shutterbug serve up a range of super tasty crepes up to midnight.
::
The Poetic Soundsystem™ // FREE ENTRY // 7 – 12pm // Shutterbug, 1 Rivington Place, Shoreditch, London, EC2A 3BA