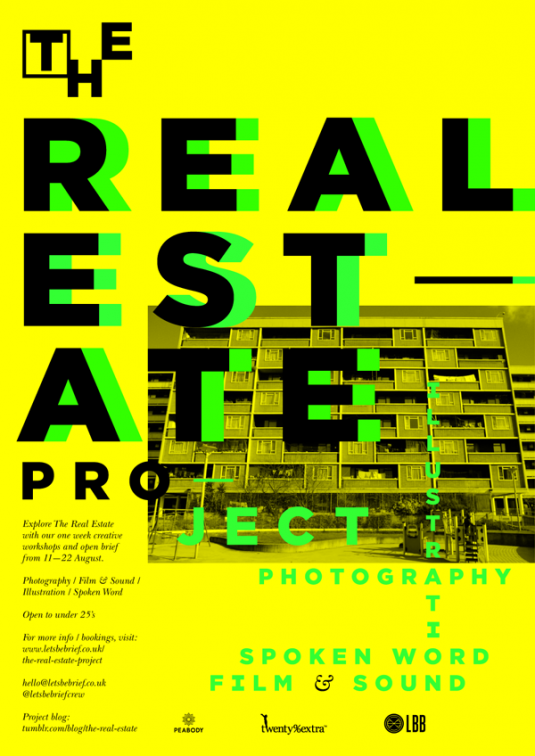 WHAT DOES 'REAL ESTATE' MEAN TO YOU? HOW DO WE IDENTIFY OURSELVES IN PLACES & SPACES?
::
The Real Estate Project is creative project that will investigate Peabody estates, creatively mapping the experiences of housing association residents and the wider community.
Working to a project brief with top draw practising artists from a range of backgrounds (spoken word / film / photography / film & sound), workshop participants will explore memories, local surroundings and social relationships to discover how a sense of 'place' helps to inform our identities and community.
The project will culminate in an exhibition that combines the collaborative work of the participants and the artists.
Please note: Each workshop programme is ONE WEEK long and are based in various London locations (see below for details). Places are limited. Please register per class.
Open to under 25's.
::
Spoken Word w/ Inua Ellams
Inua Ellams is an award-winning poet, writer, teacher and performer. Growing up in Nigeria, London and Dubai he works extensively as a graphic designer/visual artist. In 2009, his debut play The 14th Tale toured nationally, achieving a prestigious Fringe First Award at the Edinburgh Fringe Festival, before returning to a sold-out run at the National Theatre. Inua's further credits include The Midnight Run – city tours, The Black T-shirt Collection, as well as working with organisations such as the BBC, Apples & Snakes and the Tate Modern.
Dates: Monday 11th to Friday 15th August
Times: 11am–3pm
Venue: New Venture Centre, Success House, 45 Coppers Road, SE1 5ZT
Collage & Illustration w/ Emily Evans
A freelance graphic artist based in London. Emily's inspiration comes from music and vinyl culture and she has worked with a wealth of record labels. Emily a collaborator at heart, is part of the HIT & RUN CREW, Astro Black Collective and is also a guest illustration and design tutor at Winchester School of Art and Design – University of Southampton and co-runs a BA Illustration and Design course at the Cass School of Art and Design at London's Metropolitan University. Emily runs the Cover Club – creative night at the Ace Hotel.
Dates: Monday 18th to Friday 22nd
Times: 11am–3pm
Venue: Hugh Cubit 48 Collier Street, London, N1 9QZ
Photography w/ Robert Mason
Robert Mason is a photographer living / working in London and the Netherlands. Robert has worked for The Financial Times, Vidal Sassoon, Wonderland Magazine, The Insomniax and Look Mum No Hands! to name a few. Current projects include a photographic novel with mime artist Flavia Bertram, and an on-going photo series of chemists throughout Europe.
Dates: Monday 18th to Friday 22nd
Times: 1.30pm–5.30pm
Venue: Royal Festival Hall, Indigo Room in the Spirit Level, Southbank Centre, Belvedere Rd, London SE1 8XX
Film w/ Sean Robinson
Sean Robinson's career began in the night clubs and parties working as Product Manager at Ministry of Sound. Since then he has gone to re-train as a director, studying at Met Film School, and has created music videos, short films and docs working with artists such as Theo Parrish and artist management group Three Six Zero.
Dates: Monday 18th to Friday 22nd
Times: 12pm-4pm
Venue: Hammersmith Hall, Peabody Estate, Fulham Palace Road, London W6 9QA