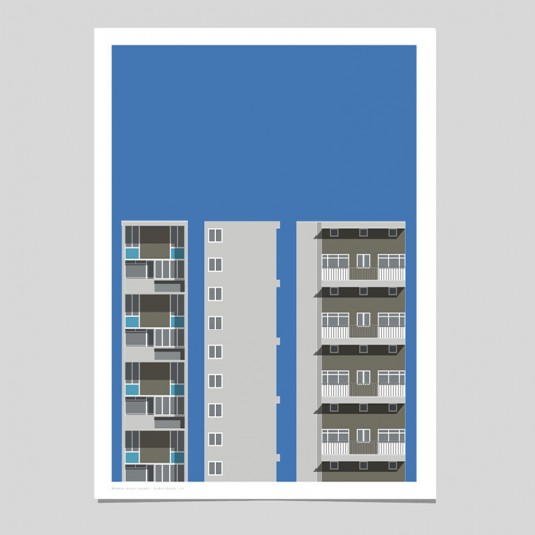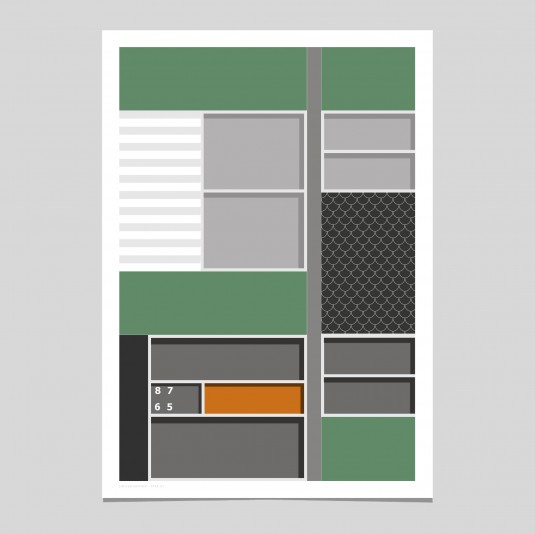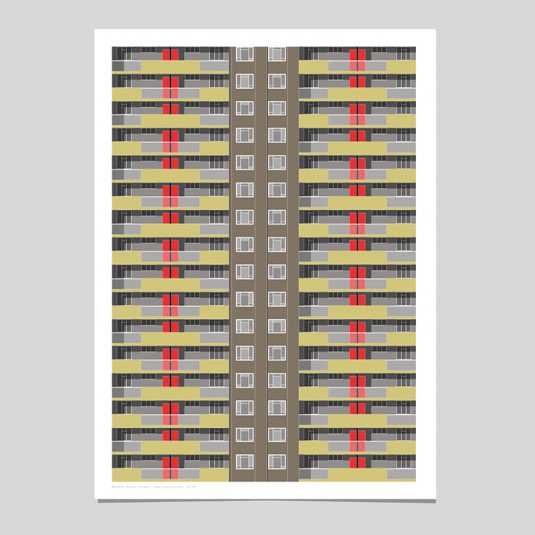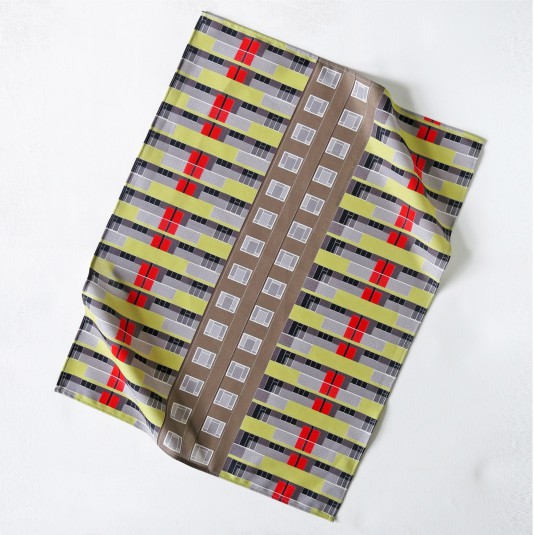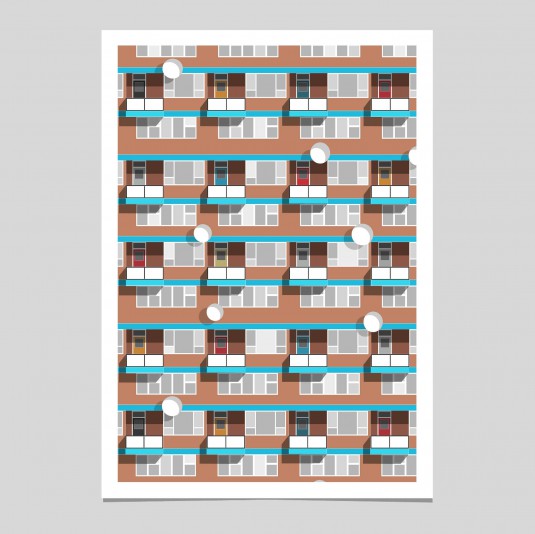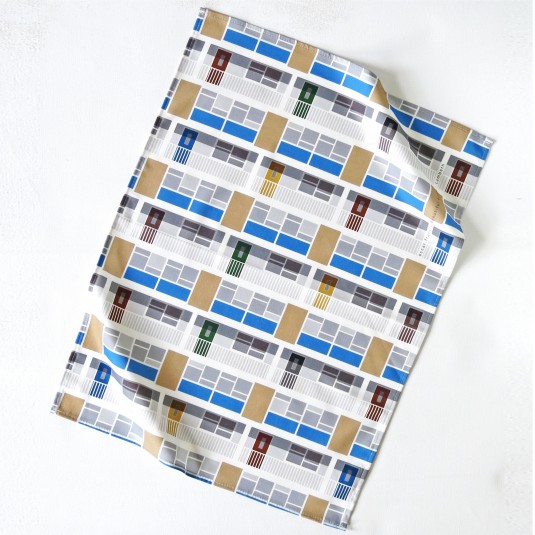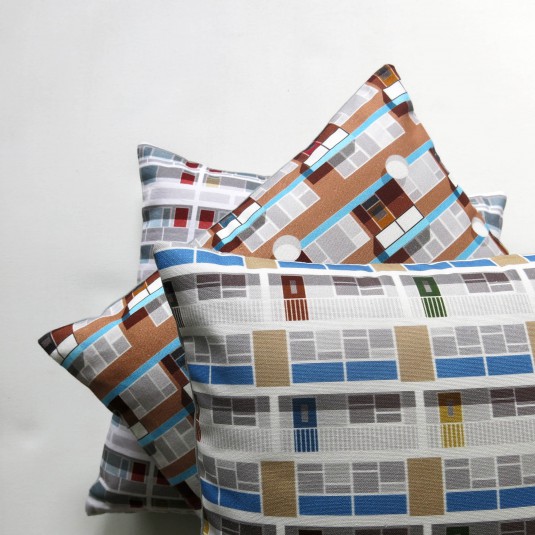 As an aesthetic, urban 'council estate' chic is now ubiquitous within visual culture. From fashion shoots to music videos, this common vernacular often provides a 'how the other half live' gaze. Rooted in a social realism, the phenomena is maturing in an interesting fashion, with the recent resurgence of Brutalist appreciation being a relevant example. Depending on what side of the fence you sit (or live behind), the Brutalist architectural style serves as either celebrated modernist design feat or unsightly eyesore.
Nevertheless, the reignited desire for stone cold concrete has been impart due to the gaze from the creative, 'cultural' quarters. By virtue, designers and artists have a habit of being able to see and extract beauty where others may not.
For example, London based studio Oscar Francis create print led work, inspired by the city they live and work in. In particular, the 'varied housing types that define our urban environment'. From their everyday surroundings, Oscar Francis have envisioned and re-purposed their visual stimuli to create graphic interpretations of various buildings such as Worlds End and Spa Green estates in London.
But beyond the creative industry led visual crush, this new found value in urban and social housing architecture serves a very practical and useful purpose. With limited available square footage across London, and housing at a premium, social housing accommodation once the bastions of the working classes are now being revamped and rebranded as desirable homes for those with half a million or two stuffed down the back of their Heals sofa.
The Evening Standard recently reported on the sale of the most expensive council flat recorded, which sold for 1.15million in Fulham. The multi-million pound property sits amidst its social housing tenants. However, the flats above and below – without similar redevelopment / investment – will struggle to reach such dizzy heights of inflated value. That is until an investor buys them at a relative snip.
The concept of 'value' is an arbitrary thing. Often changing with trends, culture, time and ultimately narrative, the current movement towards a rebranding of urbanisation into 'Des Res'. For the purpose of resale value – this accelerated market value comes a little too late for those who've had limited choice of dwelling, yet have long invested in their communities social housing environments.
In the grand narrative of things – particularly in the oversubscribed, overpriced London – these economic forces are what we've come to know all too well as 'gentrification'.
Deprecated: Function get_magic_quotes_gpc() is deprecated in /customers/3/8/6/letsbebrief.co.uk/httpd.www/wp-includes/formatting.php on line 4387
Notice: compact(): Undefined variable: limits in /customers/3/8/6/letsbebrief.co.uk/httpd.www/wp-includes/class-wp-comment-query.php on line 853 Notice: compact(): Undefined variable: groupby in /customers/3/8/6/letsbebrief.co.uk/httpd.www/wp-includes/class-wp-comment-query.php on line 853 Notice: compact(): Undefined variable: groupby in /customers/3/8/6/letsbebrief.co.uk/httpd.www/wp-includes/class-wp-comment-query.php on line 853 Notice: Theme without comments.php is
since version 3.0.0 with no alternative available. Please include a comments.php template in your theme. in /customers/3/8/6/letsbebrief.co.uk/httpd.www/wp-includes/functions.php on line 4024 Deprecated: Function get_magic_quotes_gpc() is deprecated in /customers/3/8/6/letsbebrief.co.uk/httpd.www/wp-includes/formatting.php on line 4387 Deprecated: Function get_magic_quotes_gpc() is deprecated in /customers/3/8/6/letsbebrief.co.uk/httpd.www/wp-includes/formatting.php on line 4387 Deprecated: Function get_magic_quotes_gpc() is deprecated in /customers/3/8/6/letsbebrief.co.uk/httpd.www/wp-includes/formatting.php on line 4387