I always appreciate honesty. I think a lot of the time we say what we think wants to be heard rather than what we're really thinking.
The latest Greetings Card Association Market Report figures reveal that even in an impersonal digital age, the UK public still has a soft spot for the personal greetings card — a humble show of affection, culminating in a hefty £1.7 billion market. [1]
If you've been stood, panicking, in-front of an array of a bland supermarket card selection, you've no doubt yearned for more: a point of differentiation able to make up for the fact you simply forgot to buy a present.
Dry, acerbic and personal: nothing says I love you, now get off me, like a Mean Mail card — an age-old tradition with a bittersweet touch.
Mean Mail founder, Vicky Simmons, reveals the importance of getting your copy right, legal copyrights, and making cards for those you love and love to hate.
Q) How would you describe your brand in 5 words?
Truthful. Sarcastic. Honest. Pastels.
Q) You've created a brand with a lotta personality. What was the thinking behind the brand and its tone of voice?
I always appreciate honesty. I think a lot of the time we say what we think wants to be heard rather than what we're really thinking. I know it's hard to illicit honesty sometimes from strangers and work colleagues but I expect my friends and family to be truthful with me. Mean Mail was inspired by Oscar Wilde's words "True friends stab you in the front."
Q) Your cards aren't for sensitive types. How would you describe a Mean Mail customer?
People who are design-conscious with a sense of humour who don't take life too seriously. The cards are all about the relationship between the sender and the recipient. I once had a guy come along and buy "Just don't be yourself", "It's always about you" and "Nobody cares". After chatting for a bit I asked him who he was buying them for he said it was for his brother who was terminally ill. This choked me up. Some people love it, some people get really offended – but I guess that's down to their frame of mind at the time. We're not for everyone and nor should we be.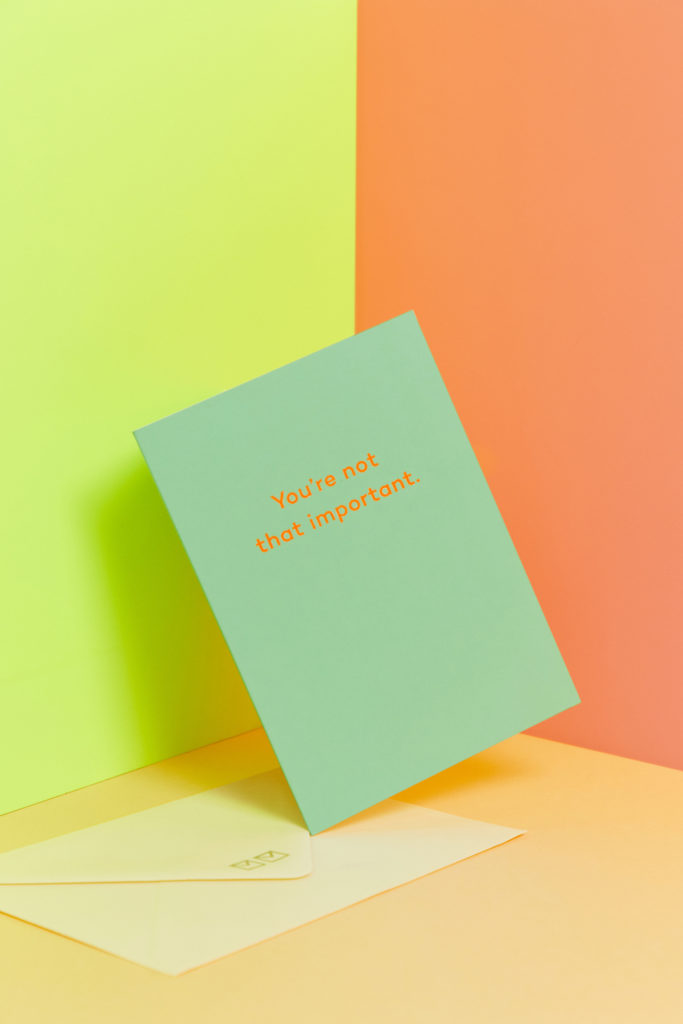 I think of a lot of people want to start their own thing but it's easy to be blocked by fear…every success with the business is a direct result of the hard work I've put in behind it.
Q) What inspired the leap from employee / freelancer into pursuing your own business?
It's the cliche of I didn't want to get to the end of my life and had all these what-ifs that I'd never acted on. I think of a lot of people want to start their own thing but it's easy to be blocked by fear. I am a champion procrastinator and sat on the idea for ages before finally pursuing it. When friends / old colleagues say "I'm impressed with what you're up to with Mean Mail" it's one of the nicest compliments I can receive because every success with the business is a direct result of the hard work I've put in behind it.
Q) How have you found the transition from full-time employment / freelancing to running your own business? Is it what you envisaged?
I enjoy both worlds of Mean Mail and freelance. At my freelance job, I'm a little fish in a big pond, whereas when I'm back at Mean Mail I'm calling all the shots. The best part about freelance is you mature so much between gigs as you're constantly learning and making yourself feel uncomfortable.
Q) You previously worked in advertising. What useful perspective/s has your former career had on your approach to business?
I loved working in advertising but it seems like a career path where everyone gets an urge to bail around 10 years in. When I realised that ideas being sold are up to power and politics rather than the strength of the idea I knew my full-time days were numbered. Saying that, it's nice to dip my toe back in with freelance – I care so much less (in a good way) about the industry, politics, work – Mean Mail fulfils my desire to creatively execute.
In terms of my experience from advertising, it has taught me a lot about branding, strategy and positioning. It taught me the strength of having a logo that works blown up to billboard size or shrunk down to 16 x 16 pixels on the favicon of your web browser. I've got to work with some incredible brands over the past 10 years and interestingly the bigger brands get, the more fearful they become of making mistakes.
It's nice to be able to experiment, take risks and sign off on ideas for Mean Mail within a matter of days or weeks, rather than waiting for research groups, client feedback and the circus of politics bigger companies naturally create. There's a great chapter in the book Rework – Change The Way You Work Forever by Jason Fried & David Heinemeier Hansson which says 'Have you ever noticed that while small businesses wish they were bigger, big businesses dream about being more agile and flexible?' I think about this a lot in terms of size, scale and getting things done.
Two years later and £2.5k poorer, I have my trademark. I'm so glad I persevered.
Q) And what's been your biggest challenge so far [since setting up]?
Securing our trademark and dealing with copycats. I registered to trademark Mean Mail before I launched. It was opposed by the lawyers of one of the world's biggest companies. I tried dealing with it directly at first but ended up appointing a lawyer when their legal team stopped replying to my correspondence. I worked with Brandsmiths who were great. Two years later and £2.5k poorer, I have my trademark. In situations like these, it's not uncommon for larger corporations to just sit on you until you go away.
I'm so glad I persevered.
Almost every week we get sent messages from customers, other greeting card publishers and stockists about a copycat they've spotted. It's gutting when you see it happening. I'm not afraid to approach people directly when they rip us off – and have had some pretty uncomfortable conversations in person with people who have. It's important to call out when people copy you – copycats get really sheepish when they know you know. It can be better to do it in person than over email as you catch people unawares and they don't have time to come up with a calculated answer. There's plenty of room for everyone, as long as we're all original.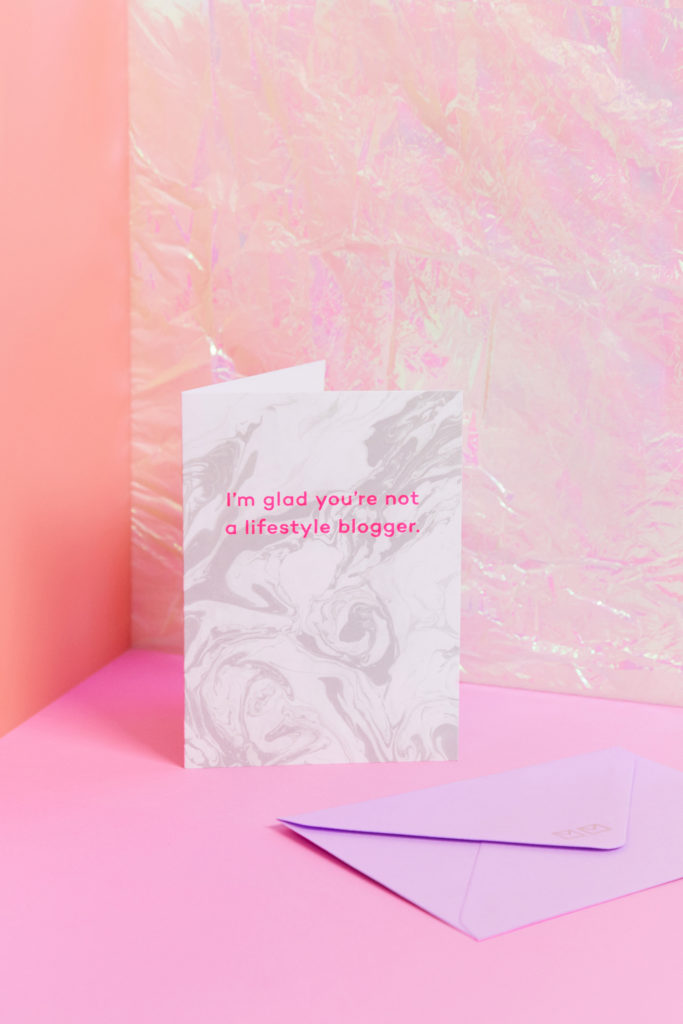 Q) And highlight?
Liberty being one of our first stockists was a dream come true. They're still one of our best stockists. I was recently invited to meet Natalie Massenet and talk about Mean Mail with her which was an amazing moment.
Q) What ambitions do you have for Mean Mail?
Growth. I want us to grow our wholesale – I'd rather be in the right kind of shop that's well-curated than in loads of shops. We've recently taken on stockists in Hong Kong and Australia. I'd like to expand to America, Canada and UAE in 2020. We launched new products at Stylist Live that were really well received, so scaling production up on those is next on our list.
Q) What advice would you give other creatives wanting to start their own independent ventures?
Some people love it, some people get really offended. We're not for everyone and nor should we be.
Stay uncomfortable. It took me ages to heed this advice myself but I know too many people in the industry who are hibernating, comfy getting their paycheque at the end of the month but creatively unfulfilled. If you don't know what you want to do, just go freelance. It enables you to experience lots of different companies from different perspectives. If I had my time again I would go work at a startup and broaden my skillset but working in an industry I haven't worked in before. Once you have your idea – take time crafting it and making it ready for launch but don't overthink it – truth is, you'll never be fully ready – it's always good to set yourself deadlines.
Q) Perfectionism in creativity – a limiting force or necessary evil?
It's important to a point. Perfectionism in creativity matters when it's about attention to detail. Never have a 'this will do' attitude when with the smallest tweaks you can elevate it to being something better. On the opposite end of the spectrum, it can mean more work that's completely unnecessary. I've worked in an agency where I've had to watch 30 sec TV ads through frame by frame to check for errors in the comp work – that's a hell of a lot of still frames. Thing is, the actual ad was not very good – so in that sense the striving for perfectionism was completely misplaced – the idea should have been better rather than looking visually perfect.
Q) What's on your current playlist?
Podcasts. I'm obsessed with the Pocketcast App. My favourite podcasts currently are How To Fail with Elizabeth Day, No Bull Business Women by Sarah Akwisombe and catching up on Woman's Hour episodes, especially the late-night ones.
Q) What was the last book that you read?
I'm mid-way through reading Philippa Perry's The Book Your Parents Should Have Read.
Q) What are you obsessed with right now?
Becoming financially literate. I can't believe I've gone through most of my life not properly appreciating or respecting the value of money. Earning it for myself rather than somebody else giving me a monthly salary has been eye-opening. I'm currently reading "Open Up: The Power of Talking About Money" by Alex Holder and I'm relating to a lot of things she says in that book.
::
*1. Latest figures published in 2017