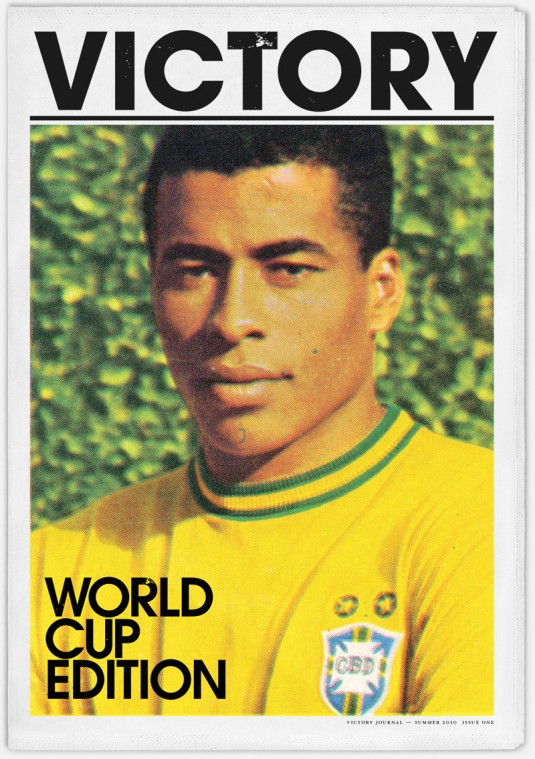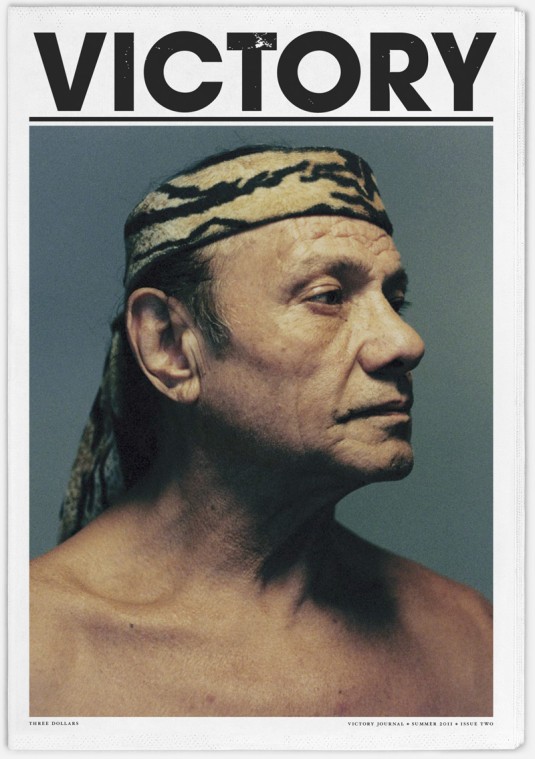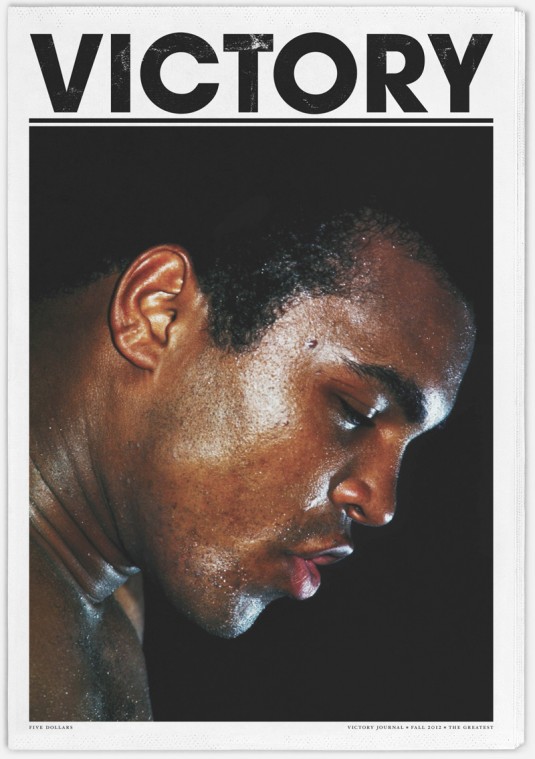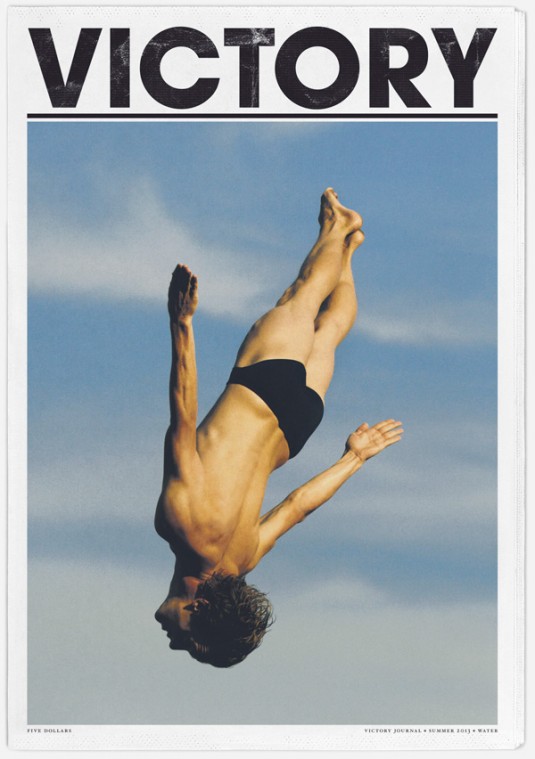 Victory is the "journal of sport and culture." This is not an empty claim. Victory gets to the nub of the human story that both underpins and defines the sporting spectacle. It does so with grace, humility and the deft touch of a sports psychologist — not to mention the skill of the most talented artisan.
The print edition is a large format (11″x 17″) biannual, with digital features released at least once a month. Victory Journal Issue Seven "The Main Event," drops at the end of May. We talk to magazine Editor Christopher Isenberg about skipping the 'highlights' in favour of 'insight'. Whether sports-fan or hu-man, we believe Victory matters. Now on with the Q&A.
Q) What has sport meant to your life and how would you say it's shaped your outlook?
In the beginning, it was absolutely everything. Sport was what excited me as a child, playing, watching, collecting baseball cards and other objects related to it. I wore a Yankee uniform with a plastic batting helmet every single day of my life ages four through seven, so sports was completely foundational to my whole identity. And through my interest in sports, I learned—how to read from newspapers to chapter books like Matt Christopher to the biography of Lou Gehrig, I learned about math from calculating stats and understanding the back of baseball cards, I learned about photography and design and fonting from the fronts.
I learned about joy and suffering from watching my teams lose and win. I learned about race from my dad explaining to me that not every black man I saw on the street was Reggie Jackson or Muhammad Ali and I needed to stop asking random dudes for autographs; seeing a musical about Jackie Robinson on Broadway.
I learned about adultery from going to Yankees Stadium for my birthday and a radio station giving out masks of Wade Boggs' mistress for us to taunt him when he was up. And maybe most important of all I learned about narrative, stories and characters: George Steinbrenner, Billy Martin, Dave Winfield, Mark Gastineau, Lawrence Taylor, Dwight Gooden, Darryl Strawberry, Don Mattingly, Mike Tyson. These are the characters I read about and thought about every day. Bad guys and good guys, bullies and rebels, winners and losers, flameouts and comebacks, fatal flaws, pivotal moments, rags to riches, riches to rags, coming through in the clutch and choking under the hot lights. Sports has shaped my outlook fairly completely.
Q) There is a current wave of sports magazines that touch on the more cerebral side of the 'game'. Why do you think this is? And what do you think Victory adds to the narrative surrounding sports journalism & storytelling?
There is a significant group of people who love sports and who are also very sophisticated consumers of information—from writing, photography to illustration to moving image. I think in the 60s, 70s, and 80s large-circulation magazines like Sports Illustrated and Esquire were really speaking directly to those people. As a kid in the 80s, I was one of them. In the 90s and early 2000s, the frequency and quality of that discourse declined. Sports Illustrated stopped running certain kinds of stories, SportsCenter and the highlight reigned.
This audience we are talking about started to be underserved but it was not large enough to support it's own cable channel or large-circulation magazine. The internet, the blogosphere, Youtube, as well as the accessibility of the tools to create, gave people who with certain tastes and interest a chance to produce and consume outside the existing infrastructure and within sports (and many other categories) audiences and talent were exposed.
Being able to make Dock Ellis, which is part of the DNA of Victory, without major funding and release it on a platform where millions of people could watch it without incremental costs to us changed our personal creative lives and this is one of many stories.
The latest round of publications and channels whether they are all digital or print is part of that same process of that audience which has always been there searching for content, making content for itself and revealing the enduring power of its presence to larger players.
Victory is a strong independent voice in that landscape. It adds a unique point of view—scale, design, quality photography, illustration, writing and a willingness to take on stories that will not be covered in other media or will not be covered with the same care and depth. And it adds our personal love and energy, which are powerful forces.
Q) Charismatic superstar sports personalities have the ability to transcend sports and become cultural icons. You recently covered Muhammad Ali, what did you discover about the man and his influence that you didn't know?
Most excitingly we discovered that he liked our work. His niece Terry Danziger was staying at the Ace Hotel in New York and found a copy of Victory Issue Four "The Greatest." She brought it to Muhammad directly and he liked it so much he asked for more copies. That's the greatest compliment I've received in my professional life.
Q) The US drafting system has its parallels with socialism, in that it creates parity in sport – giving the little guy a shot. How do you think these ideas tally with prevailing notions of meritocracy in the US, and moreover, the overarching narrative of the 'American Dream'?
We did a story in Victory Three "For Love or Money" about the Boca Juniors Academy in Argentina, which touched on the business side of that operation and by extension the economics of global football, which does tend to operate with more purely capitalistic rules of supply and demand around talent. But in general, Victory is not very focused on reporting on or making commentary about the business of sport.
From the commentary side, I admire the work of Dave Zirin, which you can check out on edgeofsports.com. In the zone of your specific question, there is also an excellent Planet Money Podcast (04/168627825/episode-427-lebron-james-is-underpaid) about how LeBron James is underpaid. As a fan, I would like to see relegation introduced to American sport, especially baseball, as it would encourage more competition at the bottom.
Q) The journal is a spinoff of creative studio Doubleday & Cartwright, how do the two inform one another?
Our work in journalism, filmmaking (individually and collectively) actually predates the existence of Doubleday and Cartwright, so I think spinoff is not exactly the right word, but it is definitely a symbiotic relationship.
It's been over ten years now, for me personally, that professional life mixes working for agencies and brands and creating content for publications, channels or independently. Figuring out how to tell stories in impactful and innovative ways is really at the center of everything we do, and there are things we learn in one area that we apply to others.
Q) Both the print and web version of Victory have a distinctive aesthetic. How important was it to develop a style and how pivotal of a role does photography play in your storytelling?
My partner, Aaron Amaro, is an incredibly talented art director. He deserves a lion's share of credit for the look and feel and the calibre of and editing of the photography. The aesthetic is extremely important—not at the expense of the text because a lot of hard work goes into the text, but I do think Victory is visually driven. I know that when I see people hold it, a lot of times they flip through first before they read. In some ways, it's kind of like, even as a magazine, a print Tumblr if you flip through.
For those that want to explore deeper, hopefully, they go back and read all the text. Leading with the visual is definitely a conscious choice and also where we felt there was space to do something that was different.
Q) Victory also produces short films such Texas Six & Jimmy Snuka "SUPERFLY giving insight into the personal stories of athletes and their culture. What more can we expect from the film making side of Victory?
We also recently collaborated with Mickey Duzyj and Grantland on The Perfect 18, a half animated short about Putt-Putt mini-golf, which has gotten a tremendous reaction online and also aired twice on ESPN's Sportscenter.
We have more short films in production and are committed to continuing this kind of storytelling.