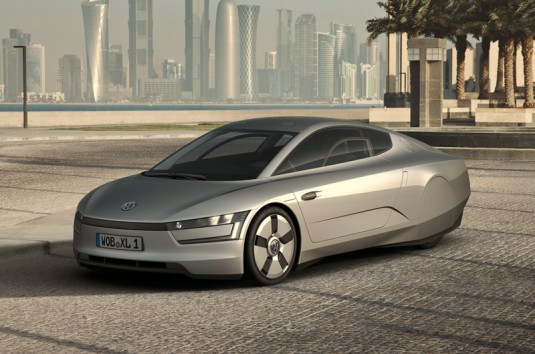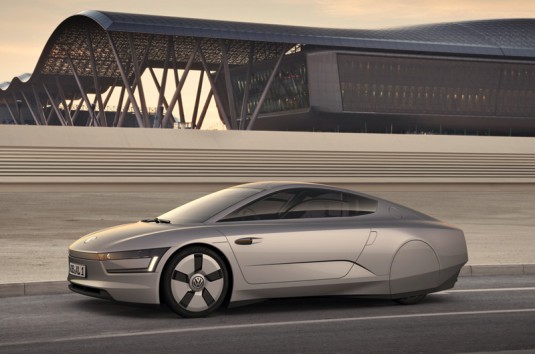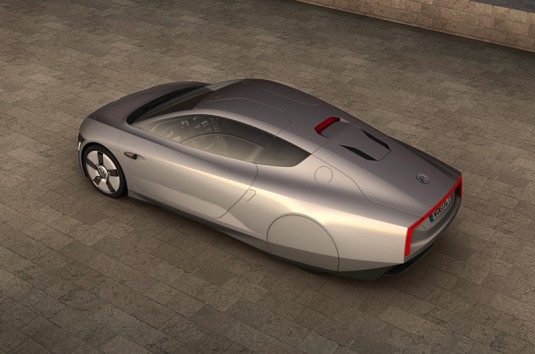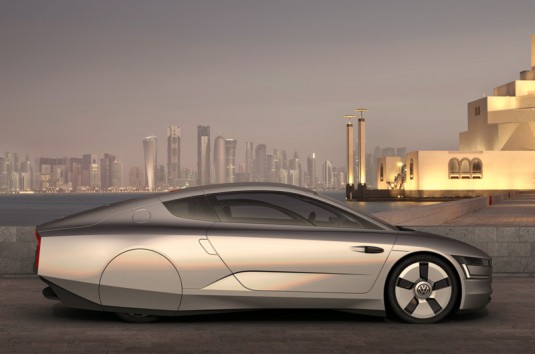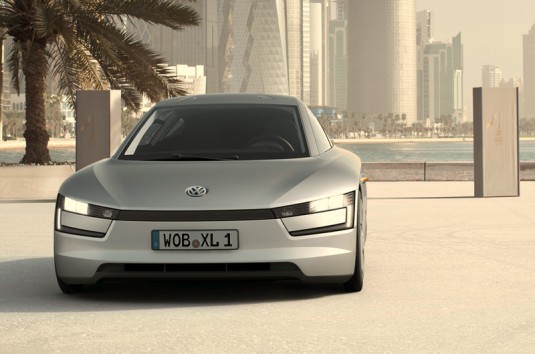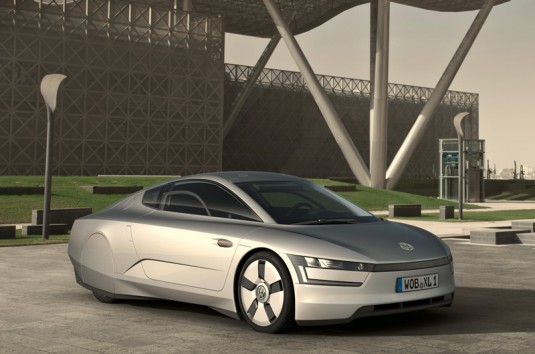 There can be no better exercise in irony than to launch a car that delivers well in excess of 300mpg than in Qatar: a country reportedly responsible for the largest exporters of liquefied natural gas (LNG) in the world, and a significant player in the crude oil / petroleum market. Yet the Qatar motor show provided a lavish backdrop for the launch of Volkswagen's XL1 — a diesel hybrid concept.
The new car is the third concept model built to the vision of travelling 100km (62 miles) on a single litre of fuel. The first two vehicles (introduced in 2002 and 2009) used tandem seating, but the XL1 achieves the goal (or at 0.9l/100km, surpasses it) while looking remarkably conventional. That being said, the XL1 is shorter than a Polo (3.9m), but lower than a Lamborghini Gallardo (a ridiculously low 1156mm). And for the aerodynamicists out there the XL1's drag coefficient is a pretty slick 0.186.
Petrol [or diesel / electric] heads, get your rain macs as we present the following spec. The XL1 is powered by an 800cc, two-cylinder turbodiesel powerplant (half a BlueMotion engine), producing 47bhp. It's supported by a 27bhp electric motor that is fuelled by lithium-ion batteries. These can be charged from a domestic plug, allowing the car to travel for 35km (22 miles) on electric power alone.
The electric motor can also be used to support the diesel engine's torque during 'full power' acceleration, lifting the figure from 74lb ft to 103lb ft. But it also contributes to overall efficiency that's well beyond that of regular production cars. The XL1 requires just 8bhp to maintain a constant speed of 62mph; by contrast, a Golf 1.6 TDI requires 18bhp to achieve the same feat.
So you're saying to yourself "why have I not heard about this car yet?" To that question, we have two words: 'price-point' and 'exclusivity'. The VW XL1 goes on sale in the UK for a whopping £98,515, with a total of 200 set to be built at VW's Osnabruck factory in Germany, with around 30 examples of the plug-in hybrid making their way to the UK.
For those able to afford this vanguard in automotive efficiency, there'll be little to concern them when they finally need to visit a petrol station.