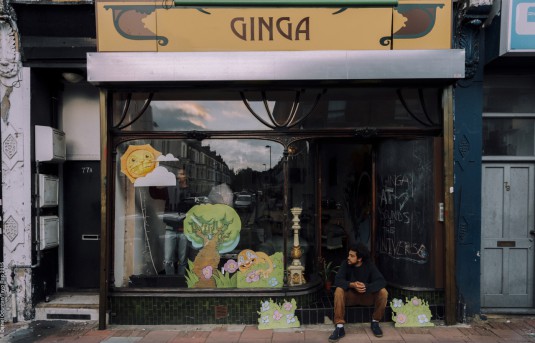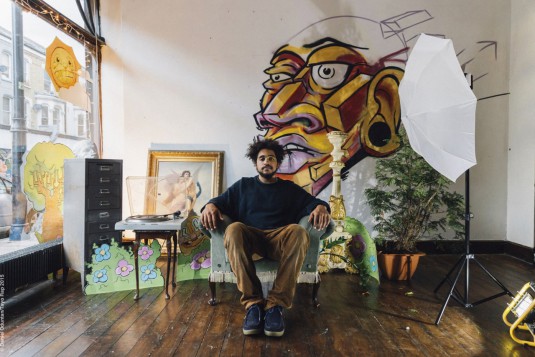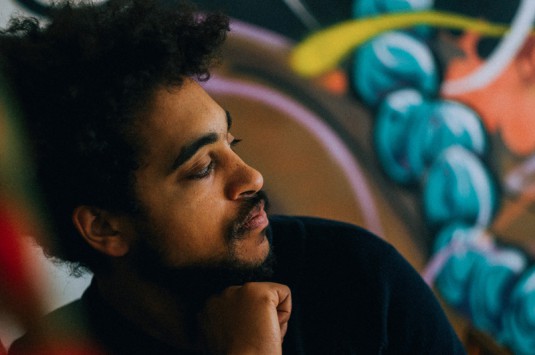 Miles Romans-Hopcraft aka Wu-Lu may be young in years but he's distinctly mature in his creative efforts. Musician, producer, DJ and all-round creative type, Wu-Lu has been gracing the soundwaves with his NTS residency under the 92 Points moniker, producing for artists such as Ego Ella May, as well as running a vinyl lovers market / jam: Crates for the past two years.
Wu-Lu's most recent project is his cassette tape only debut EP Ginga, which was launched at a standing-room only gig at Sounds of Universe. The EP hosts a series of collaborations including Andrew Ashong, Stones Throw's MNDSGN and Binisa Bonner.
LBB managed to catch up with the sonorous fellow for a long overdue Q&A.
Q) Tell us a bit about yourself…
My name is Wu-lu. I'm a creative coming out of Brixton, south London. I have been making music for about 10 years and it's always been on the cards for me to travel down this path. I've been 'doing' music since I was little, I first started taking it seriously when I got older. My whole family are in the creative industries; my brother and my parents are involved in music and contemporary dance.
Q) What has been your biggest creative influence and how has it manifested in your work?
I guess my biggest creative influence is through groove because I play the bass and I love the drums. This was a main factor in the music I heard whilst growing up. It was always the drums and the bass that caught me and how the marriage between those two instruments could change the feel of anything on the track. Things have changed a lot more since [the first time] I started playing the bass. Where I have a short attention span, I just get things changed up really quickly in my musical progression.
Q) What was the transition from the recreational pursuit of creating music to embarking on a craft / career? What was the defining point for you?
To be honest I have always been making music, but the defining point was when my dad kept saying to me and my brother that music "is quite a hard industry to get into to… you should have a plan B". He kept reiterating [that] to us. But myself and my twin brother just looked at each other at a young age and I remember we both said to each other, "it is okay, we're going to do music, it's fine". There was no doubt in either of our minds that we wouldn't be pursuing music as we grew older.
Q) How much are you influenced creatively by external factors and wider issues such as culture and politics?
I'm more influenced by culture and what's around me immediately, so aspects of politics but mainly my everyday surrounding are my biggest inferences. And if that had a political stand point on it, like gentrification and that kinda thing, I will incorporate it into my music. The weather and different characters that surround me, are more than enough for me to take in.
Q) You recently launched and performed the EP at Sounds of the Universe. And how did you find the experience?
The show was amazing, I was so shocked by the amount of people that arrived at Sounds of the Universe. Initially, during the show. I had my eyes closed most of the time. At some points, in the very rare moments, I did open my eyes, I just saw the whole place packed all the way to the back, even to the point that people couldn't even get inside and out. It created support that I've never felt before and yeah, was just amazing. It's given me a new found confidence in my music.
Q) Your first single is a collaboration with Andrew Ashong. How did that come about? And what was your creative process of working together?
Andrew is a friend of mine, we've been friends for quite a while so it was a long time coming. As to getting into the studio and working on some stuff, [the] creative process was completely organic. How I like to work is to put no strenuous feelings of stress on the situation, so over time, naturally, we end up finishing something but there'll be more to come in the future.
Q) Perfectionism in creativity – a limiting force or necessary evil?
I don't think perfection is a thing because at the end of the day, it's completely subjective. But having a goal within your music – to say to yourself, 'I need to finish this' or 'I need to make sure that this sounds as best as possible' – those are two different things. You're only going to make music as good as you feel it needs to be. Someone else might think that is perfect and someone else may think it's unfinished but the fact is, as long as it's comfortable with you – the creator – then that's perfect in my mind.
Q) What was the last book that you read?
The Cosmic Serpent.
Q) What's on your current playlist?
I've been listening to tracks from Shuan Sky – Placebo reflect
Specs Spectacle – The PTA
Binisa Bonner – Then I dream (off the mix tape)
Grace Acladna – Losing it
Reiss G ft Ego Ella May – Scale it back
Childhood – As I am
Andrew Ashong – The way she moves
Soothsayers – We're not leaving
The Abyssinians – Land far far away
Q) What's next?
I have written a few more projects. It's just [that] I'm going to put those out when I'm good and ready basically!
::
Photography by Daniel Oduntan